Lucy Kalanithi
IN A NUTSHELL
What if we experienced death the way doctors do?

ABOUT LUCY
Lucy Kalanithi is an internist on faculty at the Stanford School of Medicine and the widow of Dr. Paul Kalanithi, author of the #1 New York Times-bestselling memoir When Breath Becomes Air, a meditation on mortality and meaning which was nominated for the Pulitzer Prize and has been translated into over 40 languages. Lucy completed her medical degree at Yale, her residency at the University of California-San Francisco, and a postdoctoral fellowship training in healthcare delivery innovation at Stanford's Clinical Excellence Research Center. Lucy is a Fellow of the American College of Physicians and an honoree of Mass General Cancer Center's the one hundred. She was a TEDMED 2016 speaker and is on the TEDMED Editorial Advisory Board. She has appeared on NPR, PBS Newshour, Yahoo News with Katie Couric, The New York Times, Elle, and Charlie Rose. She lives outside San Francisco with her daughter, Elizabeth Acadia.
LEARN MORE
Dr. Lucy Kalanithi: 'Two years on, the sting of losing Paul is finally fading'
Sanghani R. 2017.
Lucy Kalanithi: C-TAC 2016 National Summit on Advanced Illness Care
C-TAC. 2016.
When Breath Becomes Air
Kalanithi P. 2016.

Lucy Kalanithi
Charlie Rose LLC. 2016.

Keeping Dr. Paul Kalanithi's Voice Alive
Hafner K. The New York Times. 2016.

A Wife Finishes Her Husband's Stunning Memoir of His Brief, Wondrous Life
Chase L. Elle. 2016.

My Marriage Didn't End When I Became a Widow
Kalanithi L. The New York Times. 2016.

"When Breath Becomes Air": a dying doctor's memoir teaches about love and loss
Couric K. Yahoo! News. 2016.
Before I Go
Kalanithi P. Stamford Medicine. 2015.
How Long Have I Got Left?
Kalanithi P. The New York Times. 2014.
Dr. Lucy Kalanithi: When Breath Becomes Air
The Commonwealth Club.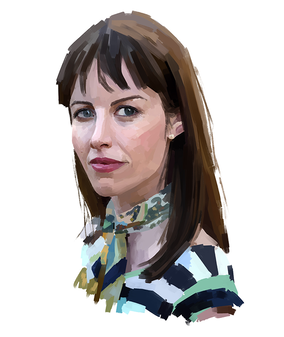 Caregiver