Application for TEDMED Live 2018 Now Open!
Watch a live simulcast of TEDMED's stage program,
in high-definition video, live or on-demand.
---
The TEDMED Live program helps us deliver the ideas discussed on our stage to those on the front lines of health and medicine around the world. Whether it's with 5 people or 500, we encourage viewers to gather together and join us as part of the TEDMED community.
Apply today to host a TEDMED Live gathering at your organization.
Thanks to our Partners, we offer TEDMED Live FREE to:
Teaching Hospitals
Medical & Nursing Schools
Schools of Public Health
Academic Institutions (K-12 & Beyond)
Government Agencies
*Review our rates and viewing options for other organizational access options.
---
Schedule your gathering to fit the needs of your organization
To accomodate schedules around the world, every approved organization can view the stage program live or on-demand at TEDMEDLive.org. You choose when to watch:
Watch Any Session Live

:
Nov 14 - 16, 2018

Streaming directly from our stage in Palm Springs, California. Don't forget to add your voice on social media using #TEDMED.

All Sessions Available On-Demand

:
Nov 14 - Dec 14, 2018

After the conclusion of each session, video is available on-demand through Dec 14, 2018. You don't have to watch live, experience TEDMED on your time.
APPLY FOR TEDMED LIVE
Get access to streaming video of all talks, live from the TEDMED Stage in Palm Springs, CA. Watch all talks:

Live: Nov. 14–16, 2018; or
On Demand: Nov. 14 – Dec. 14, 2018
---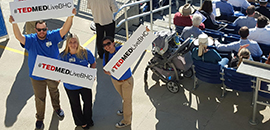 Baptist Health Care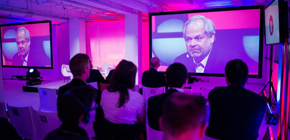 Medical University of Warsaw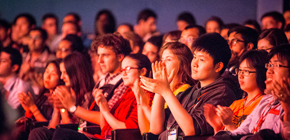 Imperial College
What does TEDMED Live cost?
TEDMED Live is available to anyone with an interest in the future of humanity's health. Thanks to our partners, we're able to offer complimentary TEDMED Live access to many students, doctors, nurses, educators, and policy makers at qualifying institutions. If you are not a part of a qualifying institution and would like to bring TEDMED Live to your company, we offer additional access options for non-profits and for-profit organizations.

FREE ACCESS
NON-PROFIT ACCESS: $7,500
CORPORATE ACCESS: $10,000

Qualifying Institutions Include:
Teaching Hospitals, Government Agencies, Medical Schools, Schools of Public Health, Nursing Schools and other Academic Institutions.

Qualifying Institutions Include:
Non-profits and charitable organizations registered with 501(c)(3) status are eligible for our non-profit access rate of $7,500.

Qualifying Institutions Include:
All for-profit organizations and corporations are offered our corporate access rate of $10,000.

What do I get with my access?
Every approved organization is provided a special code that can be used to access the TEDMED program, live Nov. 14-16, and on demand from Nov. 14 through Dec. 14, 2018. Video is accessed online at TEDMEDlive.org.
The mission of the TEDMED Live Program is to share TEDMED's content, creating opportunities for organizations and industry leaders on the front lines of health and medicine to come together, experience stories shared on the TEDMED stage, and inspire the exchange of different perspectives and new ideas around the world. We strongly encourage every participating organization to gather together and watch with groups of colleagues and friends. In this spirit, we hope that organizers will share their access code to others within the approved organization and champion remote gatherings and conversation.
However, it is important that organizers DO NOT distribute their access code beyond the members / employees / students of the approved organization. Sharing of the access code publicly or to those beyond the approved organization is strictly prohibited.
Check out our guidelines for ideas and more information about bringing TEDMED Live to your organization.

Loading...

Loading...
---
TEDMEDLive Streaming is Made Possible by the Generous Support of: