The TEDMED Front Line Scholarship Program
An essential part of TEDMED's mission is assembling a diverse mix of individuals, each with an important perspective on new ideas, trends, treatments or technologies that can contribute to health and medicine. These individuals become our Delegates at TEDMED.
We are looking for innovators and collaborators from across society—whether from health, medicine, technology or not—to participate in an inclusive conversation about how to achieve a healthier future. Today's challenges are as much social and commercial as they are medical...and that puts us all on the Front Lines of this struggle.
However, some candidates may need financial assistance to attend our annual event in person. TEDMED's Patron Fund provides scholarships to support exceptional individuals who would make outstanding Delegates, and who would greatly benefit from attending TEDMED, but who could not otherwise afford to participate.
If that describes you, and you are interested in applying for a Front Line Scholarship, get started by submitting an application today. To do so, please follow the prompts for "TEDMED's Front Line Scholarship Program" when applying to attend.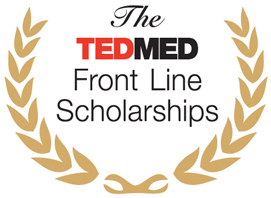 About the Fund
The Patron Fund supports exceptional individuals from all disciplines and organizations with Full and Partial scholarships to attend the TEDMED event as Delegates. The Fund also supports the free simulcast of TEDMED's program to teaching hospitals, medical schools and government agencies, around the world.
We're proud to have over 140 countries and 200,000 participants viewing remotely at no charge through TEDMED Live.Corporate opportunities, including naming rights to this Fund, are available -- please visit our Partner Opportunities page.
Past Recipients of Front-Line Scholarships funded by the Patron Fund
Name
Organization
James Colbert
New England Journal of Medicine
Alice Dommert
Deliver Me Wellness
Charles Cuneo
International Rescue Committee-Baltimore
Elham Azizi
Boston University
Jeff Moulton
Georgia Tech Research Institute
Georgia Sambunaris
USAID and JHSPH
Sari Field
Pratt institute
Elizabeth Ricker
5 Ways Neuroscience Will Change How We Learn
Carolyn Chen
SynAm Vaccine
Jed Batchelder
Independent Consultant
Katherine Stone
Postpartum Progress
Brad Dolin
Broccoli Labs
Rebecca Mitchell Coelius
Office of the National Coordinator for Health IT, Office of Science and Technology
Robert Arkin
Sensiotec, Inc.
Michael Boerner
Transilio, Inc.
Emily Shaw
SiTEL of Medstar Health and Illustrating Medicine
Tommy Thomas
Emory University
Sean Escola
Columbia University
Luke Westra
Typenex Medical
Landon Pratt
Medical Student and Technologist
Andre Kubler
Imperial College London
Shannon McIntyre
Care Innovations
Nathalie Bloch
Mount Auburn Hospital
Karuna Patel
Turtle Rabbit
Faheem Ahmed
SAP
David Ip
Blue Cross Blue Shield
Douglas Woods
Georgia Tech Research Instititute
Charles Perry
Dialectic Partners
Adam Fournier
Dept. of Army, ATC
Omar Lattouf
Physician
Kelsie Brust
Medtronic Inc
Jennifer Hirsch
Marked Point
Dov Biran
Fitango, Inc.
Christina Grimes
Ballinger
roxanne nelson
Medscape
Leah Kaplan
Digital Infuzion, Inc.
Ryan Walters
Imagine!
Santiago Hernandez
Centro Medico Excel
David Sohl
United States Navy
Salomon Stemmer
Rabin Medical Center
Montana Cherney
Veryday
Norton Fishman
Optimal Health Physicians
Phil Wright
IndigoExcel, LLC
Dylan Suttle
Brody School of Medicine at East Carolina University
Margaret Loper
Georgia Tech Research Institute
Gayle Schrier Smith, MD
Partners In Pediatrics, PC
Diana Reed
Writer/Activist for National Health Care
Leigh Carroll
Institute of Medicine
Zoe Dunn
Hale Advsiors, Inc.
Atul Kumar
Stony Brook University
Gregory Levey
Movable Science
Roni Mazumdar
Johnson & Johnson
Anastasia Fischer
User Experience Design & Strategy
ROSELYNE GICHANA
Dental Solutions Wire
Brittany Fiore-Silfvast
University of Washington
Anthony Ho
PricewaterhouseCoopers

Abubaker Hashim Awad

Yousif
International University of Africa
Brett Kessler
Colorado Dental Association
Shawna Pandya
University of Alberta
annie williams
Movable Science
Sheila Warnock
ShareTheCaregiving, Inc.
Erika Pabo
Harvard Medical School Center for Primary Care
Michael Weisend
The Mind Research Network
Mario Ruiz
Sistema Ser
Brad Fain
Georgia Tech Research Institute
Jaymie Henry
International Collaboration for Essential Surgery (ICES)
Ella Merjanova
Booz Digital / Booz & Company
Anthony Back
University of Washington
emma stanton
Beacon UK
Christopher Herot
SBR Health, Inc.
Che Smith
DC Department of Health
Julia Caponiti
Navigant Consulting (Life Sciences Practice)
Doug Rosendale
Humetrix
Maria Chavez
BioCrowding
Lorcan Walsh
CASALA / Netwell Centre, DKIT
Clint Miller
Stanford University School of Medicine
Jodi Midiri
Ross University School of Medicine
Chris Raine
Hello Sunday Morning
Adriane Randolph
Kennesaw State University
Wendy Dean
Armed Forces Institute of Regenerative Medicine
Jodie Auster

University of Melbourne

Courtney Crooks
Georgia Tech Research Institute
Pelu Tran
Augmedix
Nathan Moore
Washington University in St Louis
Steve Smith
American Academy of Hospice and Palliative Medicine
Ji Li
Navigant Consulting
Lyndsey Heise
US Army
Naeem Ahmed
NHS
Alessandro Demaio
Copenhagen School of Global Health
Muhammad Khan
The George Washington University
Aaron Neinstein
University of California, San Francisco
Amy Robinson
EyeWire, MIT
Christopher Gibson
University of Utah
Amir Kishon, Ph.D.
Wellness Layers
Miriam Beecham
Healthwise
Chad Priest
MESH
Sarah Jameel

McGill University

Melanie Wyne

Disruptive Women in Healthcare

Maja Kecman
Centre for Vision in the Developing World
Andrew Cutler

University of Florida, College of Medicine

Awab Alvi
Alvi Dental Hospital
Ashely Alker
George Washington Medical School
Anish Mehta
OttoClave, Inc
Stacy McCarthy
Learning Design Network, Inc.
Carlen (Kay) Fung
Vancouver Coastal Health
Varun Boriah
CardioCanary Inc.
Thomas Fowler
Novel Bio-Spectrum Technologies
Jordan Garth
Georgia Institute of Technology
Maya Desai
Baylor Health Care System
Sam Lin
Children's National Medical Center
Mark Silverberg
Social Health Insights
Ivana Gadjanski
R&D Center for Bioengineering - BioIRC
Aria Ilyad Ahmad
Universities Allied for Essential Medicines
Nadine Hubert
Toronto General & Wesern Hospital Foundation
Kate Black
HHS, Office of the National Coordinator for Health IT
Victoria Seng
American Cancer Society Cancer Action Network
Mitch Strobin
MedicationAdherence.Org
Amanda Angelotti
UCSF
Mindy Hangsleben
Dept of Health and Human Services
Jennifer Ide
Rimidi Diabetes, Inc.
Pierre Elias
Duke University School of Medicine
Geetha Rao
Technology Frontiers Collaborative
Shamila Keyani
UM Healthcare Trust
Swapneel Patel

Washington University in St. Louis

Sally Ann Lederman
Columbia University
Steven Swann
USSOCOM
Avi Goodman
Case Western / OttoClave
Steven Feng
Eastern Virginia Medical School
Susan Anderson
The ArtReach Foundation
Beverley Bishop
Madison Valley Medical Center
Philip Niles
University of Pittsburgh Medical Center, Mercy Hospital
Arkadiusz Stopczynski
Technical University of Denmark
Rupert Dunbar-rees

Outcomes Based Healthcare (OBH)

Carolina Dimsdale
Duke University Medical Center
Mohammad Adnan
Durbin
Jon Bardin
The Public Good Projects
Beverly Tchang
Brooklyn Free Clinic
Anish Joseph
Georgia Institute of Technology
Arun Das

Johns Hopkins University School of Medicine

Franklin Nwaoha
Green Hope Human Development Initiative
Emily Zolfaghari
University of Southern California
Jim Schwoebel
The Medical Device Entrepreneurship Association at Georgia Tech
Brent King

University of Florida College of Medicine

Jess Jacobs
Food and Drug Administration
David Clever
National Institutes of Health-Cambridge University
Teresa Wang
Boston University
Shamie Das
Radio Rounds
Jaime Leonard
Virginia Hospital Center
Brucker Brenna
Providence Alliance of Clinical Educators (PACE)
John BuAbbud
Quillen College of Medicine
Tina Munjal
The Johns Hopkins University School of Medicine
Sanghee suh
Virginia Tech Carilion School of Medicine
Kathleen Raven
Reuters Health
Daniel Buckland
Harvard Medical School
Jessica Ladd
Sexual Health Innovations
Asher Hasan
NAYA JEEVAN
Catherine Pena
Mount Sinai School of Medicine
Alexandra Moss
The Public Good Projects
Kiti Kajana
American Cancer Society
Alex Blum
00-O Benefit Corporation
Jennifer Merschdorf
Young Survival Coalition
Sharon Rohrbach
Dynamic Change
Rachel Davis
Center for Health Care Strategies
Natasha Gajewski
Symple Health
Catherine Serio
Healthwise
Ashley Alwood
Advocate Medical Group
Parneet Pal

Wisdom Labs

Lucienne Ide
RImidi Diabetes
Nancy Bulgarelli
Oakland University William Beaumont School of Medicine
David Wright
Emory University, Department of Emergency Medicine
Zankhna Parekh
Foundation for Medical Education and Research
Aditya Sharma
University of Michigan
William McGinly
Assn for Healthcare Philanthropy
Stacy Lewis
Young Survival Coalition
Sharon Warner
Green Pregnancy INC
Joyce Chan
University Health Network etc
Hassan Tetteh
US Navy
Ellen Lawton
George Washington University, School of Public Health & Health Services, Dept. of Health Policy
Antoinette Moore
University of Texas at Austin
James Colbert
The Margolin Group
Alice Dommert
Tiatros Inc.
Charles Cuneo
CLOUD, Inc.
Jeff Moulton
Jhpiego
Georgia Sambunaris
St. George's University School of Medicine
Sari Field
Park Nicollet Health Services
Elizabeth Ricker
Virginia Hospital Center
Carolyn Chen
Sterling Health IT Consulting, LLC
Jed Batchelder
The Arnold P. Gold Foundation
Kaylesh Pandya
Nova Southeastern University College of Osteopathic Medicine
Kwanza Hall
Atlanta City Council
Scott Joy
The Colorado Health Foundation
Gary Drews
The Colorado Health Foundation
Lucienne Ide
Rimidi-diabetes
Michelle Brenner
Eastern Virginia Medical School
Miranda van Tilburg
University of North Carolina
Cassandra Leong
Massive Health, National University of Singapore, Stanford University
Amir Kishon
Wellness Layers
Diana Freed
Private practice
Amanda Corneau
Children's National Medical Center
Neil Izenberg
Nemours Center for Children's Health Media (KidsHealth)
Alisa Hughley
enBloom Media, LLC
Lauren Jodi Van Scoy
Drexel University College of Medicine
Chad Priest
Managed Emergency Surge for Healthcare, Inc.
Sarah O'Brien
Emory University
Deven McGraw
CDT
Christopher Kelly
Whittington Hospital
Robin Farmanfarmaian
Singularity University
Steven Waldren
American Academy of Family Physicians
Halli Gomberg
Contractor at Lybba
Summer Knight
Cigna
Millie Paupst
University of Toronto
Parneet Pal
Novo Spa
Daniel Wattendorf
Defense Advanced Research Projects Agency
Mark Milroy
American Society of Association Executives (ASAE)
Alice Randall
Vanderbilt University
Jonathan Gordon
NewYork-Presbyterian Hospital
David Balcom
American Cancer Society
Michael Chen
Georgia Institute of Technology
Stacy Williams Shuker
Georgia Bio
Avi Goodman
Case Western Reserve University School of Medicine
Vishnu Patel
Case Western Reserve University School of Medicine
Muiris Houston
The Irish Times and National University of Ireland Galway
Zhaolong Deng
National University of Singapore
Kathleen M. Raven
University of Georgia
Teresa Wang
Bioinformatics Program, Boston University
Italo Brown
Meharry Medical College
Alison Mondragon
Portland State University
Omar Kadri
David Geffen School of Medicine at UCLA
Lauren Scott
Advancing Inspiration
Sarah Farrell
University of Virginia School of Nursing
Nirinjan Yee
BreathResearch, Inc.
Megan Jones
BreathResearch, Inc.
Marcel Tam
Boston University
Erika Noll
Peachtree Orthopaedic Clinic
Elizabeth Ofili
Morehouse School of Medicine
Henry Li
Johns Hopkins University School of Medicine
Laila Zomorodian
University of Washington School of Medicine
Priya Agrawal
NHS, Harvard
Gangadhar Sulkunte
Fourth Main Health
Shuma Panse
GBCHealth
Pierre Elias
Duke School of Medicine and The Abramson Center for the Future of Health
Colin McCluney
University of Washington School of Medicine. American Medical Student Association.
Jonathan Ghassemi
New York Presbyterian Hospital - Weill Cornell Medical College Campus
Geoffrey Ling
DARPA
Mark Levatich
Zygomatic- Cornell University
Catherine Loveland-Jones
Temple University Hospital
Caleb Egwuenu
Stand Up To Cancer Naija
Jason Sanders
University of Pittsburgh, Qualaris Healthcare Solutions, Inc., IAMICARUS.com, Pittsburgh Regional Health Initiative
Adam Dole
Mayo Clinic
Jessica Ladd
Johns Hopkins Bloomberg School of Public Health
Stephen Frost
Uniformed Services University
Divya Nag
StartX Med
Candice Passerella
Electronic Attack Squadron Two Zero Nine, United States Navy
Ali Dadpay
Clayton State University
Nicholas Rosenfeld
University of Washington School of Medicine
Emma Stanton
Beacon UK and NHS
Nitin Yerram
Northwestern University Feinberg School of Medicine
Enrique Berner
Corporacion Cultural RedArte
Catharine Zivkovic
University of North Carolina at Chapel Hill
Laura Douglass
Tulane University School of Medicine
Almira Osmanovic Thunstrom
Karolinska Institutet
Marie Myung-Ok Lee
Brown University
Marya Zilberberg
EviMed Research Group, LLC
Erin Flanagin
Case Western Reserve University School of Medicine
Autumn Ivy
University of California, Irvine School of Medicine
Molly Lafferty
Carnegie Mellon University
Polina Feldman
Indiana University School of Medicine and Kelley School of Business
Meeghan De Cagna
American Medical Student Association
Irene McGee
FYI Living
Matthew Rogers
Mount Sinai School of Medicine
Joyce Griffin-Sobel
Hunter Bellevue School of Nursing
Zack Mariscal
Hope Technology School
Ji Li
AKI Therapeutics
Melis Anahtar
MIT, Harvard Medical School
Russell Maulitz
CMZ Health Technologies
Sundaresan Jayaraman
Georgia Institute of Technology
Yun Long
Stanford University
William Adams
Harvard University
Inchan Kwon
University of Virginia
Alex Spencer
University of Washington School of Medicine
Leila Pirhaji
Massachusetts Institute of Technology
Dorian Liepmann
University of California, Berkeley
Joshua Salvi
Weill Cornell Medical College, The Rockefeller University, Sloan-Kettering Institute. Tri-Institutional MD-PhD Program
Neil O'Donnell
Johns Hopkins University
Leo Mavely
Axio Biosolutions Private Limited
Pinar Keskinocak
School of Industrial and Systems Engineering, Georgia Tech
Ralph Passarella
Johns Hopkins University School of Medicine
Ryan Close
Columbia University - College of Physicians and Surgeons
Raj Khalsa
UC Irvine School of Medicine. UCInvent Medical Device Development Program
Kristin Chick
Validus Group
Dirk Hanson
Addiction Inbox
Daniel Yagoda
Massachusetts General Hospital
Cynthia Weatherly
Louisiana State University Health Sciences Center New Orleans
Molly McMahon
Mayo Clinic Center for Innovation
Pierre Vigilance
George Washington Univ School of Public Health and Health Services
Aswin Chari
University of Oxford
Alvi Azad
United States Air Force
John Murphy
Western Connecticut Health Network
Ramin Ahmadi
Danbury Hospital
Kathleen Crowley
Boston Medical Center
Dmitry Volkin
SUNY-Downstate College of Medicine
Lissa Yu
David Geffen School of Medicine at UCLA
Alison Williams
Harvard School of Public Health
Matthew Trachtenberg
USA Food and Drug Administration
Freddy Abnousi
Stanford University Medical Center
Timothy Tirrell
University of California, San Diego
Kim Kristiansen
EvidenceProfile ApS.
Glendon Tait
Dalhousie University Faculty of Medicine
Gary Linkov
Columbia University College of Physicians and Surgeons
Joshua Herigon
Children's Mercy Hospitals and Clinics
Bret Bostock
Hanger
Holland Haynie
The Thor Group
Daniel Brillhart
Uniformed Services University of Health Sciences
Christoph Janott
Pateca GmbH
Jose Stavola
Hospital Los Samanes
Garrett Coman
University of Utah School of Medicine
Theresa Santoro
Ridgefield Visiting Nurse Association
Amy Baxter
MMJ Labs LLC
Christine Soya
Boston University School of Medicine
Francisco Bengoa
Frecuencia Medica
Lisa Cassidy
Jacksonville Victim's Services
Jessica Green
University of Oregon
Jussi Saukkonen
Boston University School of medicine
Cynda Johnson
Virginia Tech Carilion School of Medicine
Kalil Abdullah
Cleveland Clinic Lerner College of Medicine
Sheryl Field
The Field Center for Children's Integrated Development
Morgan Wolfe
Washington University School of Medicine
Soo Jung Lee
Emory Healthcare
Alexey Aleshin
UCLA David Geffen School of Medicine and UCLA Anderson School of Management
Tamara Lee
Cleveland Clinic Lerner College of Medicine of Case Western Reserve University
Brent King
University of Florida College of Medicine
Emily Silverman
Johns Hopkins School of Medicine
Rigel Christian
Oregon Health and Science University
Elizabeth Stern
SUNY Downstate College of Medicine
Amanda Mure
The University of Toledo College of Medicine
Thomas Martin
University of Delaware and mHIMSS
Arzu Karimova
Cervia Diagnostic Innovations
Rosina Samadani
Truth On Call
Hanhan Li
Cleveland Clinic Lerner College of Medicine of Case Western Reserve University
William Teeter
Tulane University School of Medicine
James Bernstein
Eniware, LLC
Sharon Plan MacNeil
Heywood Hospital
Niaz Uddin
NiazBiz.com and JAAGO Foundation
Andrea Costa
New York eHealth Collaborative
Carmine DePalma
The Portal Innovation Foundation, Inc
Chali Mulenga
UCLA School of Medicine and Anderson School of Management at UCLA
Leslie Margolin
The Margolin Group
Kimberlie Cerrone
Tiatros Inc.
Gary Thompson
CLOUD, Inc.
Sean Monagle
Jhpiego
Nandita Patnaik
St. George's University School of Medicine
Anita Bilden
Park Nicollet Health Services
Jaime Leonard
Virginia Hospital Center
MaryAnne Sterling
Sterling Health IT Consulting, LLC
Arnold Gold
The Arnold P. Gold Foundation
Kaylesh Pandya
Nova Southeastern University College of Osteopathic Medicine
Kwanza Hall
Atlanta City Council
Scott Joy
The Colorado Health Foundation
Gary Drews
The Colorado Health Foundation
Lucienne Ide
Rimidi-diabetes
Michelle Brenner
Eastern Virginia Medical School
Miranda van Tilburg
University of North Carolina
Cassandra Leong
Massive Health, National University of Singapore, Stanford University
Amir Kishon
Wellness Layers
Diana Freed
Private practice
Amanda Corneau
Children's National Medical Center
Neil Izenberg
Nemours Center for Children's Health Media (KidsHealth)
Alisa Hughley
enBloom Media, LLC
Lauren Jodi Van Scoy
Drexel University College of Medicine
Chad Priest
Managed Emergency Surge for Healthcare, Inc.
Sarah O'Brien
Emory University
Deven McGraw
CDT
Christopher Kelly
Whittington Hospital
Robin Farmanfarmaian
Singularity University
Steven Waldren
American Academy of Family Physicians
Halli Gomberg
Contractor at Lybba
Summer Knight
Cigna
Millie Paupst
University of Toronto
Parneet Pal
Novo Spa
Daniel Wattendorf
Defense Advanced Research Projects Agency
Mark Milroy
American Society of Association Executives (ASAE)
Alice Randall
Vanderbilt University
Jonathan Gordon
NewYork-Presbyterian Hospital
David Balcom
American Cancer Society
Michael Chen
Georgia Institute of Technology
Stacy Williams Shuker
Georgia Bio
Avi Goodman
Case Western Reserve University School of Medicine
Vishnu Patel
Case Western Reserve University School of Medicine
Muiris Houston
The Irish Times and National University of Ireland Galway
Zhaolong Deng
National University of Singapore
Kathleen M. Raven
University of Georgia
Teresa Wang
Bioinformatics Program, Boston University
Italo Brown
Meharry Medical College
Alison Mondragon
Portland State University
Omar Kadri
David Geffen School of Medicine at UCLA
Lauren Scott
Advancing Inspiration
Sarah Farrell
University of Virginia School of Nursing
Nirinjan Yee
BreathResearch, Inc.
Megan Jones
BreathResearch, Inc.
Marcel Tam
Boston University
Erika Noll
Peachtree Orthopaedic Clinic
Elizabeth Ofili
Morehouse School of Medicine
Henry Li
Johns Hopkins University School of Medicine
Laila Zomorodian
University of Washington School of Medicine
Priya Agrawal
NHS, Harvard
Gangadhar Sulkunte
Fourth Main Health
Shuma Panse
GBCHealth
Pierre Elias
Duke School of Medicine and The Abramson Center for the Future of Health
Colin McCluney
University of Washington School of Medicine. American Medical Student Association.
Jonathan Ghassemi
New York Presbyterian Hospital - Weill Cornell Medical College Campus
Geoffrey Ling
DARPA
Mark Levatich
Zygomatic- Cornell University
Catherine Loveland-Jones
Temple University Hospital
Caleb Egwuenu
Stand Up To Cancer Naija
Jason Sanders
University of Pittsburgh, Qualaris Healthcare Solutions, Inc., IAMICARUS.com, Pittsburgh Regional Health Initiative
Adam Dole
Mayo Clinic
Jessica Ladd
Johns Hopkins Bloomberg School of Public Health
Stephen Frost
Uniformed Services University
Divya Nag
StartX Med
Candice Passerella
Electronic Attack Squadron Two Zero Nine, United States Navy
Ali Dadpay
Clayton State University
Nicholas Rosenfeld
University of Washington School of Medicine
Emma Stanton
Beacon UK and NHS
Nitin Yerram
Northwestern University Feinberg School of Medicine
Enrique Berner
Corporacion Cultural RedArte
Catharine Zivkovic
University of North Carolina at Chapel Hill
Laura Douglass
Tulane University School of Medicine
Almira Osmanovic Thunstrom
Karolinska Institutet
Marie Myung-Ok Lee
Brown University
Marya Zilberberg
EviMed Research Group, LLC
Erin Flanagin
Case Western Reserve University School of Medicine
Autumn Ivy
University of California, Irvine School of Medicine
Molly Lafferty
Carnegie Mellon University
Polina Feldman
Indiana University School of Medicine and Kelley School of Business
Meeghan De Cagna
American Medical Student Association
Irene McGee
FYI Living
Matthew Rogers
Mount Sinai School of Medicine
Joyce Griffin-Sobel
Hunter Bellevue School of Nursing
Zack Mariscal
Hope Technology School
Ji Li
AKI Therapeutics
Melis Anahtar
MIT, Harvard Medical School
Russell Maulitz
CMZ Health Technologies
Sundaresan Jayaraman
Georgia Institute of Technology
Yun Long
Stanford University
William Adams
Harvard University
Inchan Kwon
University of Virginia
Alex Spencer
University of Washington School of Medicine
Leila Pirhaji
Massachusetts Institute of Technology
Dorian Liepmann
University of California, Berkeley
Joshua Salvi
Weill Cornell Medical College, The Rockefeller University, Sloan-Kettering Institute. Tri-Institutional MD-PhD Program
Neil O'Donnell
Johns Hopkins University
Leo Mavely
Axio Biosolutions Private Limited
Pinar Keskinocak
School of Industrial and Systems Engineering, Georgia Tech
Ralph Passarella
Johns Hopkins University School of Medicine
Ryan Close
Columbia University - College of Physicians and Surgeons
Raj Khalsa
UC Irvine School of Medicine. UCInvent Medical Device Development Program
Kristin Chick
Validus Group
Dirk Hanson
Addiction Inbox
Daniel Yagoda
Massachusetts General Hospital
Cynthia Weatherly
Louisiana State University Health Sciences Center New Orleans
Molly McMahon
Mayo Clinic Center for Innovation
Pierre Vigilance
George Washington Univ School of Public Health and Health Services
Aswin Chari
University of Oxford
Alvi Azad
United States Air Force
John Murphy
Western Connecticut Health Network
Ramin Ahmadi
Danbury Hospital
Kathleen Crowley
Boston Medical Center
Dmitry Volkin
SUNY-Downstate College of Medicine
Lissa Yu
David Geffen School of Medicine at UCLA
Alison Williams
Harvard School of Public Health
Matthew Trachtenberg
USA Food and Drug Administration
Freddy Abnousi
Stanford University Medical Center
Timothy Tirrell
University of California, San Diego
Kim Kristiansen
EvidenceProfile ApS.
Glendon Tait
Dalhousie University Faculty of Medicine
Gary Linkov
Columbia University College of Physicians and Surgeons
Joshua Herigon
Children's Mercy Hospitals and Clinics
Bret Bostock
Hanger
Holland Haynie
The Thor Group
Daniel Brillhart
Uniformed Services University of Health Sciences
Christoph Janott
Pateca GmbH
Jose Stavola
Hospital Los Samanes
Garrett Coman
University of Utah School of Medicine
Theresa Santoro
Ridgefield Visiting Nurse Association
Amy Baxter
MMJ Labs LLC
Christine Soya
Boston University School of Medicine
Francisco Bengoa
Frecuencia Medica
Lisa Cassidy
Jacksonville Victim's Services
Jessica Green
University of Oregon
Jussi Saukkonen
Boston University School of medicine
Cynda Johnson
Virginia Tech Carilion School of Medicine
Kalil Abdullah
Cleveland Clinic Lerner College of Medicine
Sheryl Field
The Field Center for Children's Integrated Development
Morgan Wolfe
Washington University School of Medicine
Soo Jung Lee
Emory Healthcare
Alexey Aleshin
UCLA David Geffen School of Medicine and UCLA Anderson School of Management
Tamara Lee
Cleveland Clinic Lerner College of Medicine of Case Western Reserve University
Brent King
University of Florida College of Medicine
Emily Silverman
Johns Hopkins School of Medicine
Rigel Christian
Oregon Health and Science University
Elizabeth Stern
SUNY Downstate College of Medicine
Amanda Mure
The University of Toledo College of Medicine
Thomas Martin
University of Delaware and mHIMSS
Arzu Karimova
Cervia Diagnostic Innovations
Rosina Samadani
Truth On Call
Hanhan Li
Cleveland Clinic Lerner College of Medicine of Case Western Reserve University
William Teeter
Tulane University School of Medicine
James Bernstein
Eniware, LLC
Sharon Plan MacNeil
Heywood Hospital
Niaz Uddin
NiazBiz.com and JAAGO Foundation
Andrea Costa
New York eHealth Collaborative
Carmine DePalma
The Portal Innovation Foundation, Inc
Chali Mulenga
UCLA School of Medicine and Anderson School of Management at UCLA
| | |
| --- | --- |
| James Colbert | New England Journal of Medicine |
| Alice Dommert | Deliver Me Wellness |
| Charles Cuneo | International Rescue Committee-Baltimore |
| Jeff Moulton | Georgia Tech Research Institute |
| Georgia Sambunaris | USAID and JHSPH |
| Sari Field | Pratt Institute |
| Elizabeth Ricker | 5 Ways Neuroscience Will Change How We Learn |
| Carolyn Chen | SynAm Vaccine |
| Jed Batchelder | Independent Consultant |
| Katherine Stone | Postpartum Progress |